March 7, 2023
Here's the lineup of games available now that Playdate Catalog has launched: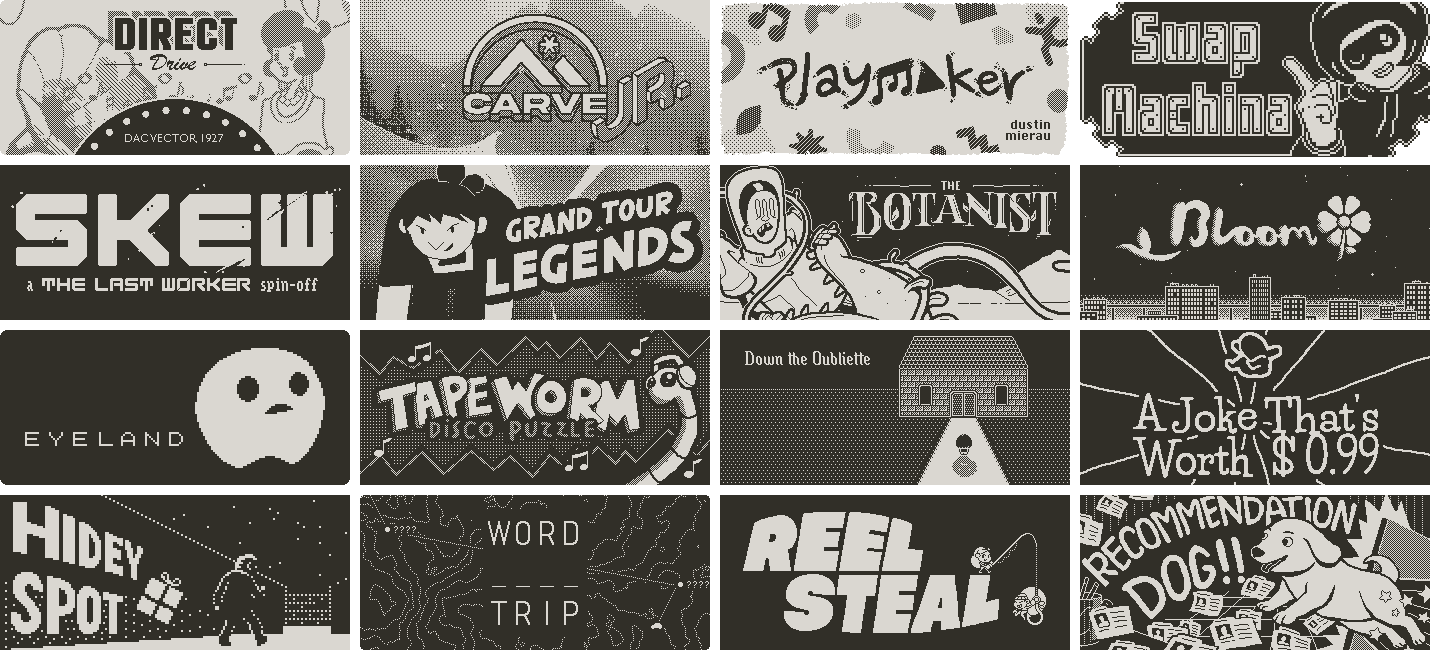 🎙️ Direct Drive, a silent-movie-musical game about being an intern in the music industry in 1927, from DAC Vector
🏂🏽 Carve Jr, where you'll hit the slopes like never before, from Chuhai Labs
🎼 Playmaker, with six playful creative spaces where you can paint, compose, build, record, and dance, from Dustin Mierau
⚙️ Swap Machina, a fast-paced puzzle game made in the Pulp game engine by NaOH & Zion D. Hill
🌀 SKEW, the world's 1st real-time 3D endless spinner, from Oiffy
🚴‍♂️ Grand Tour Legends, an epic bicycle racing game from iorama studio
🌱 The Botanist, an interactive sci-fi adventure comic with a linear story, from Cadin Batrack
🌺 Bloom, the real-time narrative-driven social sim about starting up a flower shop, from RNG Party—now with a new post-game story, and more!
👁️ Eyeland, a mysterious bite-sized adventure made in Pulp by Ron Lent
📼 Tapeworm Disco Puzzle, a grid-based puzzle game where you play as a tapeworm, the local nightclub owner; from Lowtek Games
👻 Down the Oubliette, a dungeon crawler for people who like tower defense games, from Rebecca König
🍑 A Joke That's Worth .99¢, now in Catalog with a NEW .1¢ joke! From kamibox
🎁 Hidey Spot, a little Pulp-made adventure about sneaking around in the middle at night, from Neven Mrgan and us here at Panic
🚙 Word Trip, a light-action word-building game from Shaun Inman
If you own a Playdate, we also hope you enjoy 🎣 Reel Steel & 🐶 Recommendation Dog! These games were brought to you by two teams of up-and-coming devs from marginalized backgrounds, led by the folks at @SweetBabyInc and @StrangeScaffold.
You can get all these games in the Catalog app on your Playdate or on our website.
crank to buy